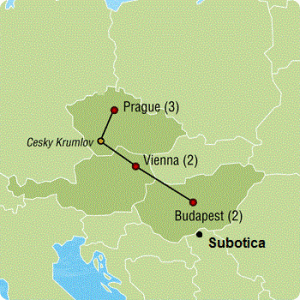 In case you want to make the most of your stay abroad, and have some extra days on your hands, the best way to do it is to take a tour of the Central European or Southeast European region. You can join an organized group visit to Budapest, Vienna, Prague, or the Croatian coast, or you can rent a car (optionally hire a driver) and plan your own route.  Driving your own car gives you the freedom to explore even the smallest towns and villages in this most picturesque part of Europe – at a price that is very affordable.
Prague, Vienna and Budapest have long been the most popular trio of destinations on anyone's itinerary through Central Europe. Europe's most storied cities, Budapest, Vienna and Prague offer the independent traveler a chance to enjoy leisurely strolls through pedestrian-friendly streets unguided, free to act on the many whims and intriguing sights these destinations offer. The spire-studded skylines and impressive architecture only hint at the energy on the streets in these dynamic cities. Dotted with hilltop castles, ornate cathedrals and imperial palaces, these three cities will captivate your eyes and stimulate your mind. But that's only the beginning of the story in Vienna, Budapest and Prague. You'll also discover vivid World War II history, radical art movements and non-stop street life.
Towns on the Croatian coast – Ljubljana, Split or Dubrovnik are no longer the best kept secrets of Southern Europe, but there are plenty of those still to be discovered in Slovenia and Croatia and driving is the best way to explore them. Historic towns and villages, small family owned wineries, olive oil producers, gorgeous national parks, ancient monuments or medieval sites all await as you make your way from Zagreb through the charming Slovenia to the fabulous truffle growing region of Istrian Peninsula and continue down to Dalmatia, perfect spot to indulge in some island hopping.