On its 145 kilometer long flow, Tara made an almost 100 kilometer long and 1.3 kilometer deep canyon. The Tara canyon is the deepest in Europe, and certainly one of the most beautiful canyons in the world. Because of its pure drinkable water, opulent vegetation and wild life, with great number of endemic species, the Tara canyon is under protection of UNESCO.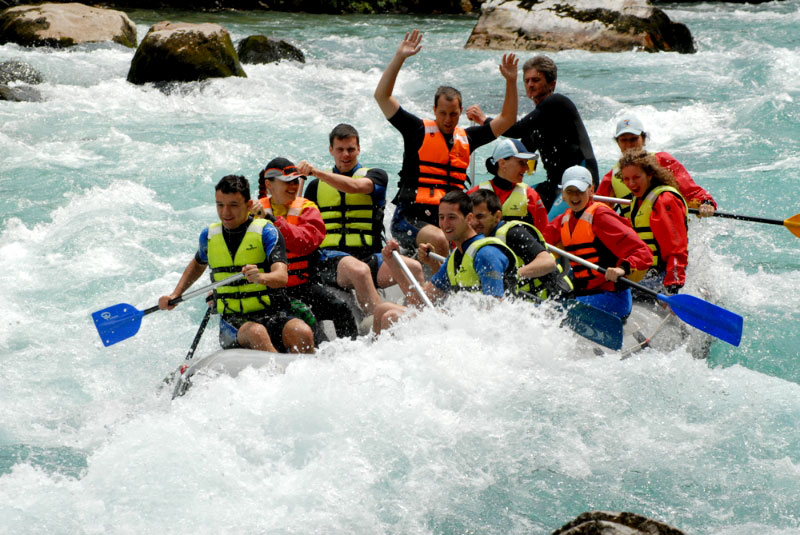 It is a true paradise for all adventurers. A truly delightful and active vacation which offers you to enjoy in magnificence of rapids, clearings, water-mills, old churches, monasteries and bridges. There are breathtaking natural phenomena that you will see in the Tara canyon.
The Tara river is navigable for almost 100 kilometers. The canyon can be divided into two parts – the upper part of the canyon and the lower part of the canyon. There are two starting points for raft boats, kayaks, canoes, hidrospeed – and other vessels. In the upper part of the canyon the starting point is Splaviste, and from there the rafting tours begin, and  run through the entire Tara canyon.
The most frequent question is about the best period for Tara rafting? The answer to this question is ALWAYS! Maximum of adrenaline is in April, May and June, but with decreasing water levels in July, August and September some of the rapids are disappearing, but new and equally attractive rapids appear which you could not see during the high water level period, so that means that Tara always offers something new and we often say that you can never flow on this same river twice.
During rafting with well equipped rafting boats and licensed and experienced skippers you can rest, go swimming and fishing or just enjoy in tasteful food of our region.
Air temperature in the canyon of Tara reaches over thirty degrees Celsius in the summer during the day, while during night it is always cozily fresh. During summer, the temperature often goes down as far as below 15 degrees Celsius. The water temperature ranges from 7-8 to maximum 11-12 degrees Celsius in the summer months.
Tara River in the last thirty kilometers of its border seems to flow between the Republic of Srpska (BiH) and Montenegro. That is why it is mandatory to have your ID card or passport with you.